Elvis a (Male) F1b-Goldendoodle puppy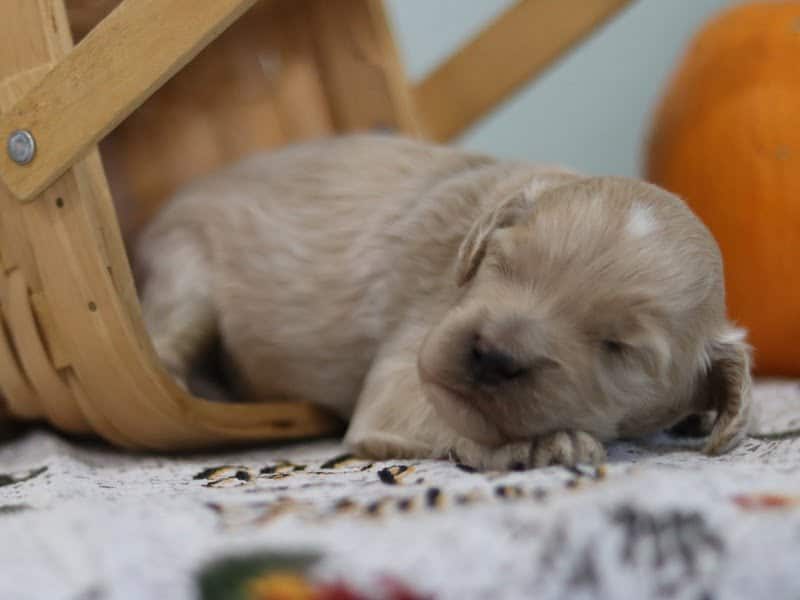 Here is Elvis a F1b-Goldendoodle (Male), Born October 22, 2021 He should be ready to go home by December 10, 2021
Reserve Elvis now for a $400.00* deposit!
---
Before making payment, please enter a tenative pickup date/time - this may be adjusted later if needed.
*If only paying the reservation amount - a balance of $1,163.50 will be payable upon Elvis's pickup - See our Puppy Policies
---
Please click on each of Elvis's photo's below to view.
Intial photos when Elvis was around 2 weeks old.
(Photos taken November 6, 2021)
Birthdate: October 22, 2021
Age: 4 Weeks and 6 days old.
Ready for Home: December 10, 2021
Microchip ID: 956000014120117
Grown: Approx. size of ~ 60 to 75 Lbs
Price: $1,563.50 (1,475.00 +88.50 tax)
---
Elvis will come with his:
---
Elvis's general health regime:
Elvis is currently 34 days old
Day10: Deworming
Day20: Deworming
Day30: Deworming
Day33: Vaccine
Day35: Weaning
Day40: Deworming
Day47: Vaccine
Day47: Vet Exam
---
Here are Elvis's other siblings:
---