Gracie a (Female) F1-Goldendoodle puppy
Submissive and lovable little girl.
Gracie a F1-Goldendoodle (Female), Born August 2, 2020 - She is now 1 year, 1 month, 2 weeks, 6 days old.
Gracie was Reserved by LAUREL M. on 09/21/21.
Please click on each of Gracie's photo's below to view.
Intial photos when Gracie was around 6 weeks old.
(Photos taken September 10, 2020)
Gender: Gracie is a Female
Birthdate: August 2, 2020
Age: 1 year, 1 month, 2 weeks, 6 days old.
Ready for Home: September 20, 2020
Microchip ID: 956000012735686
Grown: Approx. size of ~ 60 to 75 Lbs
Price: $1,457.50 (1,375.00 +82.50 tax)
---
Gracie will come with her:
1-Year Genetic Health Warranty
Microchip Enrollment Papers
---
Here are Gracie's other siblings:
---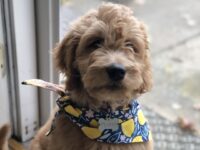 September 21, 2021
Penny has brought us so much joy! She is such a sweetheart. She is smart and has such a good temperament. My daughter says that she needed Penny more than Penny needs her- but it is mutual. The picture below is my daughter Mary Jane with Penny

~ Thank you, Olivia W.
---